Norca Precision is a trusted manufacturer and supplier of ultra precision screws.
Since 1965, Norca Precision has exclusively represented, in the U.S., a select group of some of the most reputable and important screw manufacturers in Switzerland, as well as U.S.-based precision screw manufacturers. These manufacturers specialize in the production of high precision screws and ultra precision screws, as well as custom-made Swiss precision screw machine parts, assemblies, and fine specialty products. Our collective capacity range extends all the way from micro-miniature precision screws up to screw products 2.0 inches in diameter.
We are able to make precision screws to our customers' specifications, and work with our customers to develop the best precision screw solutions for any application need. When accuracy and precision are required for performance, let Norca Precision be your partner.
Custom Precision Screws Available at High Volume
Offering a wide range of high-volume components and parts for varied manufacturing applications, Norca Precision supplies large-quantity production runs for high-precision and ultra-high precision screws, small screws, miniature screws, precision bolts and micro-miniature parts and assemblies.
Our custom miniature screws and tight tolerance instrument parts are used in a variety of specialized industries and applications. We supply precision screw solutions to leading OEMs, contract manufacturers, and businesses in varied industries, including but not limited to consumer electronics, telecommunications, automotive, computer technologies, consumer products, optical devices, medical devices, military devices and industrial products.
Precision Screws and Swiss Precision Screw Machine Parts
Norca Precision offers swiss precision screw machine parts ranging from simple shafts and spacers to threaded couplings, connectors and other fittings. Whether you require individual components or finished parts, Norca is here to help. Here is a partial list of some of our precision products:
Precision Miniature & Ultra-Miniature Tight Tolerance Parts
High-Precision Screw Machine Products & Turned Parts
Medical Precision Screw Machine Products & Turned Parts
Micro-miniature Screw Machine Products & Turned Parts
Swiss Precision Screw Machine Products & Turned Parts
Titanium Screw Machine Products & Turned Parts
Sub-Miniature Screw Machine Parts included instrument pivots, watch screws, jewel screws, etc.
Micro screws, US micro screws and small screws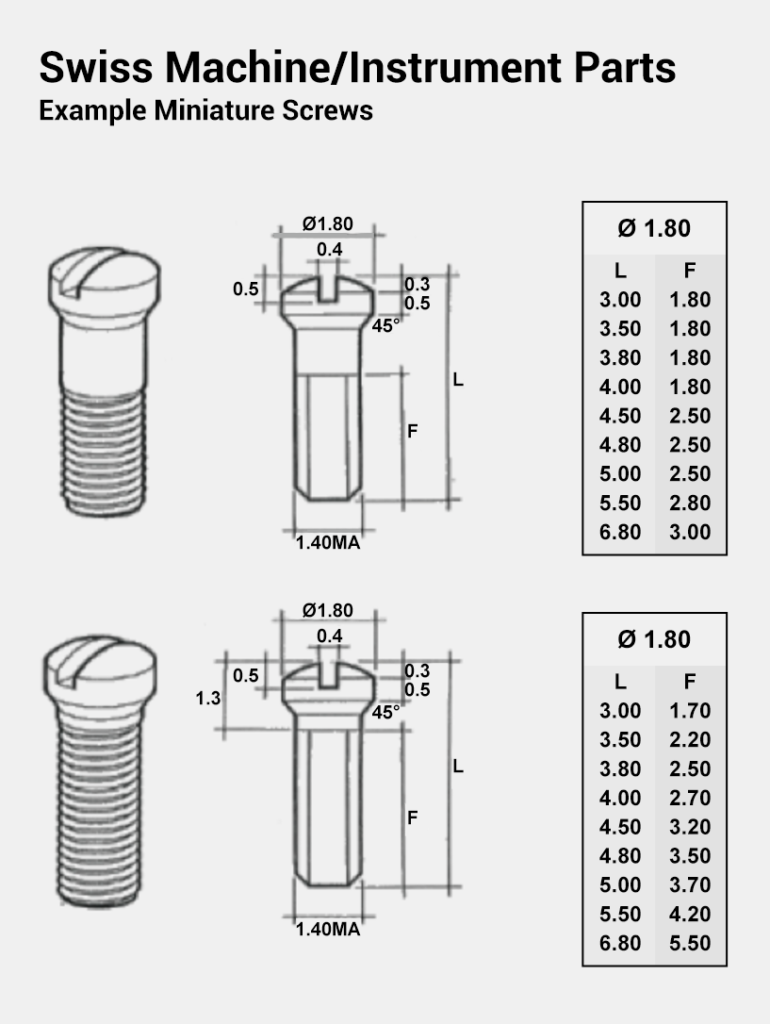 Advanced Swiss Turning Manufacturing for Precision
Delivering the highest quality precision screw machine products and component parts, we pride ourselves in providing efficiency and superior precision screw solutions, redefining industry expectation and quality demands. Made from premium materials including 12% nickel silver and AISI Grade 303 stainless steel, we offer an unparalleled approach to solving your micro fastening needs.
We offer screws and screw machine parts made by highly skilled and experienced Swiss operators working in modern factories equipped with state-of-the-art technology. Our factories are ISO9002-certified, and SPC methods are used to control the manufacturing process. We conduct rigorous final inspections of our screws and screw machine parts per MIL- and STD-105 guidelines, or our clients' specific requirements.
High-Quality Screw Materials
Our precision screws, US micro screws, small screws, Swiss precision screw and precision bolt can be produced in a wide range of high-quality materials. Our screw solutions include:
Carbon steel, alloy and stainless steels screws
Brass screws
Aluminum screws
Nickel silver screws
Beryllium screws
Monel screws
Gold screws
Plastics screws
We proudly perform plating and coatings for our screws in-house. For clients with special screw requirements, we also oversee plating and coatings in U.S. factories approved to meet Military Specifications standards or other proprietary specifications requested by clients.
Reliable On-Time High Precision Screw Delivery
We undertake a weekly air-freight consolidation of screw shipments from Switzerland, ensuring our clients receive their micro screws, precision bolts, ultra precision screws and Swiss screw machine parts on time, every time. We help simplify screw orders for our clients by having all delivered based on FOB New York prices, in U.S. dollars, with all duties and import expenses included. For quicker turnarounds, we offer just-in-time delivery from our New York warehouse.
How We Make Micro Precision Screws and Screw Machine Parts
We use a variety of machines and manufacturing techniques to produce ultra precision screws for our OEM customers, including:
Single spindle Tornos / Tornos Bechlers with up to 6 attachments (including Polygon) for screw sizes .010 inch diameter to 1.0 inch in diameter. In this approach, cam operation assures excellent repeatability of high precision screw part dimensions, while the single spindle system assures maximum accuracy for parts.
Tornos Deco 2000 is used mainly for mass-produced parts, including Swiss precision screw machine parts, providing exceptional operating flexibility and reliability. Diameters range from .10 to 1 inch.
Transfer Machines: Our transfer machines include Hydromat and custom machines. These are employed for complicated mass-produced screws and parts like housings.
CNC machines: Most useful in shorter runs, our computer numerical control (CNC) machines help automate control of machine tools through software. These machines enable precision screw creation up to 1.6 inch diameters.
WAHLI gear cutting machines, that provide extraordinary precision and accuracy for screw manufacturing.
Escomatic machines, which we employ for simple, mass-produced precision screw products.
Whatever your precision screw needs, we are here to help. Please contact us using the buttons below.
Quality Components For Success.